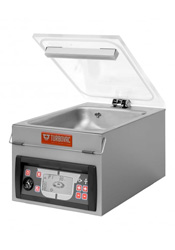 Turbovac D20 vacuum packing machine
The Turbovac T20 vacuum packer is constructed from stainless steel and has a stainless steel chamber, and comes as standard with a 8m3 Busch vacuum pump, the internal pump parts are coated to prevent corrosion.
The Turbovac vacuum packer has a control panel that holds one program and the vacuum time and seal times can be set individually on the vacuum packer with the digital time controller to suit the customers product and bag types.
The vacuum packer completes its vacuum packing cycle in approx 30-45 seconds dependent on product being vacuum packed and runs off a standard single phase 3-pin plug. With dimensions of just 365 x 500 x 340mm this vacuum packer is ideal for the customer who has little space.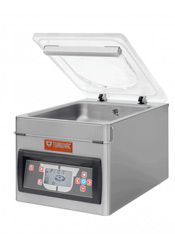 Turbovac T30 vacuum packer
The Turbovac T30 vacuum packer is designed for use in butchers shops, restaurants, farm shops and other professionals in the food and packaging industry. The vacuum packer comes as standard with a single programmeable control panel, with vacuum time and seal time set in seconds.
These times can be adjusted to suit your product or vacuum bag and then stored in the machines programme. There is also the option to upgrade the control panel on the vacuum packer to a 10-programme control panel.
The T30 vac packer is fitted with the world re-known Busch vacuum pumps, as standard the T30 has the 016m3 model inside.
External Dimensions 425 x 550 x 410mm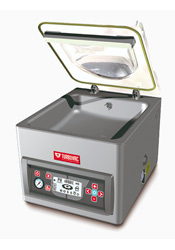 Turbovac T40 vacuum packer
The Turbovac T40 vacuum packer comes with a choice of Busch vacuum pump, 016 or 021m3. The 016m3 vacuum pump is the perfect choice for restaurants and smaller butchers shops where the vacuum packer is not used that frequently. The 021m3 vacuum pump is for more frequent use of the vacuum packer.
The Turbovac vacuum packer has digital controls where the vacuum time and seal time can be individually adjusted to suit different products and bag types and has a warm up button to get the machine and vacuum pump up to temperature before vacuum packing commences.
External Dimensions 530 x 590 x 460mm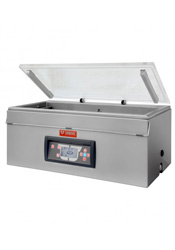 Turbovac T50 vacuum packer
The Turbovac T50 vacuum packer is ideally suited to vacuum pack fish or long and thin products. The vacuum packer comes complete with two seal beams of 320mm in length positioned one on the right and one on the left of the chamber. The distance between the two seal beams is 800mm allowing plenty of space to fit any product you are packing. The seal beams create a double seal and can be altered easily to seal and cut off, just by exchanging one of the wires.
The vacuum packing machine is fitted with a world renowned Busch vacuum pump, the internal components of which are coated for prolonged life.
The vacuum packers electronic parts are protected to IP65 water and dust protection levels and the vacuum packer comes as standard with sensor control which is accurate to 1mBar of vacuum.
External Dimensions 990 x 520 x 430mm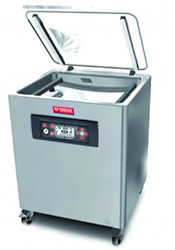 Turbovac M40 vacuum packer
The Turbovac M40 vacuum packer is floor standing and constructed completely from stainless steel and has been made around the idea of making the packing of several different products (food or non-food) as easy as possible for the operator. The vacuum packer has two seal beams which are 520mm long, they produce a double seal on the vacuum bag and are positioned either side of the vacuum chamber. The distance between the two seal beams is 545mm and can be quickly and easily converted to seal and cut off simply by changing one of the wires on the seal beam.
The M-range of vacuum packers save on packing time because of their full sensor controls and computer assisted vacuum process.
The M40 vacuum packing machine comes complete with either a single phase or three phase Busch 063m3 vacuum pump.
External Dimensions 740 x 900 x 1130mm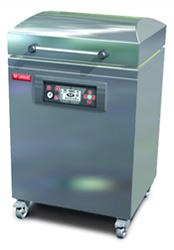 Turbovac M50 vacuum packer
The Turbovac M50 vacuum packer is floor standing and constructed completely from stainless steel. The vacuum packer has two seal beams which as standard are 780mm and 520mm in length set up in an 'L' shaped configuration. They produce a double seal on the vacuum bag and are positioned with the long beam at the front and the shorter beam on the right of the vacuum packer chamber.
The M50 vacuum packing machine comes complete with a three phase Busch 100m3 vacuum pump. Busch pumps are world renowned and coat their internal components to extend the life of the vacuum pump.
External Dimensions 940 x 1000 x 1140mm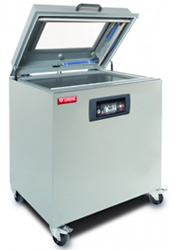 Turbovac M60 vacuum packer
The Turbovac M60 vacuum packer is the largest single chamber vacuum packer that Turbovac sell. With large seal beam configurations available the vac packer comes as standard with one long seal beam running along the front of the vac packer and a smaller seal beam running along the right side of the vac packer. Both seal beams are double seal for increased bag security from leakage, and the option to add an extra one or two seal beams is possible at an additional charge.
The M60 vacuum packer is fitted with the world re-known Busch vacuum pumps and runs off a 3ph electric supply. The lid is made entirely from stainless steel with a flat bed to place the product on whilst vac packing. The machine is made to work in factories running 8 hour shifts, and is easily cleaned and maintained.
External Dimensions 1140 x 1000 x 1140mm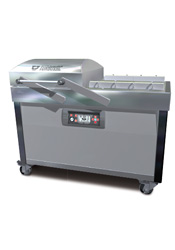 Turbovac D10 vacuum packer
The Turbovac D10 vacuum packing machine has a swing over lid that is balanced on lid springs to enable the operator to move the lid across with very little effort. The advantage of using a double chambered vacuum packer over a single chambered one is that the operator can be preparing the next lot of products and positioning them correctly in the chamber whilst the vacuum packer is vacuum packing more products in the other chamber. This speeds up the vacuum packing process considerably. The D10 vacuum packer comes with four seal beams, two in each chamber, which are positioned to the front and rear of the chamber. They are 620mm in length and the distance between the two is 520mm. Each seal beam creates a double seal on the vacuum bag, however the machine can be upgraded so that cut off wire can be used to replace one of the seal elements and the two different wires are controlled independently from the control panel.
The vacuum packer is also fitted with a world renown Busch vacuum pump. The pump fitted as standard is 100m3 but you do have the option of a 160m3 pump if you would like the vacuum packer to complete its cycle a bit quicker.
External Dimensions 1440 x 920 x 1210mm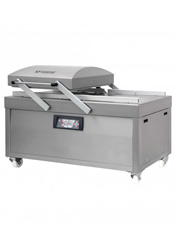 Turbovac D30 vacuum packer
The Turbovac D30 vacuum packer has a digital control panel that can store up to 10 different programmes. Each programme can be set with individual settings for the packaging of different types of product, this reduces the amount of down time needed when changing over from one product to another. The control panel of the vacuum packer comes with sensor control which allows the operator to set the exact amount of vacuum they would like to achieve which each product and it is accurate to within 1mBar of vacuum pressure.The digital control panel also tell the operator when the vacuum packing machine requires a service.
The D30 vacuum packer comes with four seal beams all of 820mm in length with a distance of 700mm between each pair. There are two seal beams in each vacuum packer chamber and they create a double seal imprint on the vacuum bag /pouch. The D30 vacuum packer can be fitted with seal and cut off at an extra cost, with each wire being controlled separately by the digital control panel.
External Dimensions 1870 x 1100 x 1230mm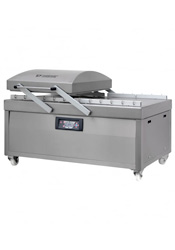 Turbovac D40 vacuum packer
The Turbovac D40 vacuum packer has a digital control panel that can store up to 10 different programmes. Each programme can be set with individual settings for the packaging of different types of product, this reduces the amount of down time needed when changing over from one product to another. The control panel of the vacuum packer comes with sensor control which allows the operator to set the exact amount of vacuum they would like to achieve which each product and it is accurate to within 1mBar of vacuum pressure.The digital control panel also tell the operator when the vacuum packing machine requires a service.
The D40 vacuum packer comes with four seal beams all of 920mm in length with a distance of 870mm between each pair. There are two seal beams in each vacuum packer chamber and they create a double seal imprint on the vacuum bag /pouch. The D40 vacuum packer can be fitted with seal and cut off at an extra cost, with each wire being controlled separately by the digital control panel.

External Dimensions 2000 x 1270 x 1245mm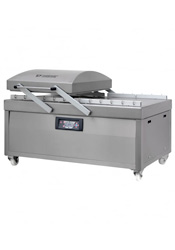 Turbovac D60 vacuum packer
The Turbovac D60 vacuum packer is the smallest double chamber vacuum packer that Turbovac sell, and comes with sensor control as standard allowing for a more exact vacuum each and every time you use the vacuum packer. The vac packer comes in either a 1ph or 3ph electric supply and each chamber has two seal beams of 600mm in length situated and the front and the back for the chamber. The machine is built from stainless steel and has a painted aluminium chamber.
All Turbovac vacuum packers are built using the world renowned Busch vacuum pump, giving you peace of mind that what is driving the machine is Busch's technology and expertise in the vacuum packer industry.

External Dimensions 1345 x 720 x 1040mm