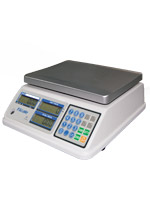 T-Scale SP Series
The SP Series wash down approved retail scales are ideal for food preparation, packaging plants, agricultural facilities, and other retail applications. The SP scales feature an IP rated wash down housing with a large stainless steel weighing pan. The larger backlit display shows weight, price per unit and an easy to read extra large total cost display. Operation is by mains AC adaptor or rechargeable battery, both are included.
Digi DS-781 Price Computing Scale
The Digi DS-781 is a price computing retail scale which has a waterproof keyboard and splashproof housing. The scale features customer and operator displays making it ideal for market traders or small shops. It features Tare and Zero functions, 99 PLUs and 16 pre set keys for faster transactions.
This is a Trade Approved scale, which means it has been calibrated to the accuracy required when goods are bought or sold based on weight.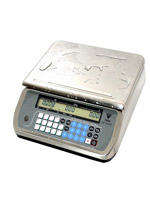 Digi DS-781SS Waterproof Price Computing Scale
The DS-781SS is a stainless steel, IP68 waterproof price computing scale by Digi. Price computing scales – also known as retail scales - are used to calculate the price of an item based on its weight. This makes portable retail scales like the DS-781SS perfect for small shops and market stalls.
A stainless steel scale looks more professional to your customers than plastic retail scales, which can be prone to water ingress, greatly reducing their lifespan. Stainless steel is more resistant to corrosion, too.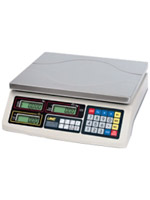 ASEP EC APPROVED FLAT TYPE RETAIL SCALE
Full sized 350 x 280mm stainless stell goods plate has an Optional stainless steel scoop and cross.
Auto switch-off facility. fixed unit price, power on zero tracking with accumulation and calculator functions, M+, MR, MC and data recall for weighing and printing of transaction.