Avery Berkel M100
The M100 has a compact design, and prints receipts and labels, and features a 120mm paper roll cassette.
The M110 features a Clamshell™ receipt printer that offers rapid 'drop and load' roll changing for receipt operation.
Avery M200
The Avery Berkel M200 is a compact design which features a column mounted customer display and the innovative M Series cassette printer for receipt and label printing.
DIGI DS-788 (RS232C Interface) Scale
Bright LED display
Up to 30kg capacity
Total price accumulation
Auto power-off function
Optional rechargeable battery(12 hours)
Low battery warning indicator
Eye catching customer side display
RS-232C serial port for data output
Avery Berkel M300 Self-service Scale
The M300 is a self service system scale with large pictorial keyboard and integral label printer, an attractive, easy to use keyboard, with picture board pre-printed on removable inserts for easy updates
Avery Berkel M400 Counter Scale
The M400 is a 2 piece design with head-up display and features a column-mounted display and keyboard to improve operator interaction with the customer.
The Scale offers all the benefits of the high performance M Series cassette printer.
Avery Berkel M420 Counter Scale
The M420 is a 2 piece design with head-up display and dual printer and features a column-mounted display, keyboard and Clamshell™ printer for receipt printing.
The combined label and receipt configuration allows for usage in any number of applications requiring label and receipt printing from the same point of service.
Avery Berkel M600 Indicator and Printer
The M600 series is a highly versatile unit, configurable for a variety of applications from bakery printing to pre-pack weighing.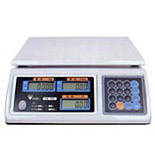 Digi DS 700 Price Computing Retail Scale
The Digi DS-700 can be used anywhere you set up your shop. It has a high contrast LCD display,a long lasting battery operation and is splash proof.